The Wild Bunch is a nature programme broadcast by BBC in 1991 and 1992 and was presented by Violet Berlin until the end of the first series and then Janice Acquah overtook for the second series and Mark Evans.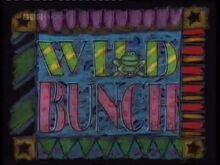 Every week the presenters would discover wild facts about the wild world.
The Wild Bunch has been repeated on CBBC on Choice beginning on Saturday 4th December 1999 at 6.45am and 9.45am until Sunday 27th February 2000 and then was repeated second time from Saturday 4th March 2000 at the same times until Sunday 14th May 2000. It returned in the summer from Monday 7th August 2000 - Friday 1st September 2000 in a weekday slot with a second weekday showing on Monday 12th February 2001 - Friday 16th March 2001 at 8.20am. 11.20am, 2.20pm and 5.20pm before returning to its original weekend showing on Wild Weekend from Saturday 30th June 2001 - Sunday 28th October 2001.