The Artbox Bunch is a British art children's programme broadcast on BBC2 from 1st January 1995 and BBC1 from 30th December 1995 for 2 series and 26 episodes.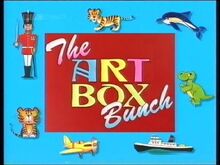 Presented by Tony Hart, the series shows how to create your own pictures at home using everyday materials accompained by the animated members of the Artbox Bunch.
The Artbox Bunch was repeated on BBC2 on Sunday mornings in 1998 after the success of Bitsa repeats prior to 1998, CBBC on Choice premiered The Artbox Bunch on Saturday 9th September 2000 at 9.15am, as a part of the Gremlyn in the Works secondary programming block's morning part, bewteen two episodes of Model Millie, until Sunday 25th March 2001. It returned on weekday afternoons of summer 2001 at 4.20pm.
Ad blocker interference detected!
Wikia is a free-to-use site that makes money from advertising. We have a modified experience for viewers using ad blockers

Wikia is not accessible if you've made further modifications. Remove the custom ad blocker rule(s) and the page will load as expected.