Radio Roo was a children's television programme which featured the adventures of Dennis and Clive, who run a radio station, Radio Roo, based in England that Clive inherited.[1] The show ran for a total of 31 episodes from 1991 to 1993 on the BBC. All episodes were written by Wayne Jackman, who starred as Dennis. The broad Australian accent of Clive the Kangaroo was provided by Ian Tregonning.[2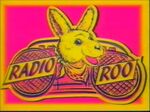 </p>

Aswell as being shown on BBC1 from 1991-1993, CBBC on Choice have also shown Radio Roo beginning on Saturday March 25th 2000 on the same day as The Little Green Planet Show at 7.30am and repeated at 10.30am with no afternoon repeats however this wasn't to last long because the "CBBC Choice" strand was axed the weekend after and afternoon repeats of CBBC on Choice were launched beginning April 1st 2000. Radio Roo was shown at 1.30pm and 4.30pm in the afternoon, A week later the schedule had changed and Radio Roo swapped with The Little Green Planet Show from 7.30am to 8.45am, the times were now as followed for Radio Roo, 8.45am, 12.00pm, 3.15pm and 6.30pm until Saturday July 8th 2000, It returned on Tuesday 13th February 2001 in a weekday slot at 7.20am, 10.20am, 1.20pm and 4.20pm until Friday 23rd March 2001. the second time it was shown on weekdays was Wednesday 12th September 2001 - Friday September 28th 2001 at 8.45am, 11.45am, 2.45pm and 5.45pm with Series 2, the final time it was repeated was from Wednesday 23rd January 2002 - Friday 8th February 2002 at 8.20am, 11.20am, 2.20pm and 5.20pm with Series 3. It has been shown on Choosy Bits a few times under viewer's requests from 2001/2002.
Ad blocker interference detected!
Wikia is a free-to-use site that makes money from advertising. We have a modified experience for viewers using ad blockers

Wikia is not accessible if you've made further modifications. Remove the custom ad blocker rule(s) and the page will load as expected.