Marvin the Aardvark was a puppet presenter on Children's BBC on satellite and cable TV channel Nickelodeon from 1997-1999. The character has never appeared on BBC1 and BBC2 and has only ever appeared on CBBC on Nickelodeon which is the only time we have seen him to this day. He presented CBBC on Nickelodeon beginning from Monday 1st September 1997 taking over from Otis the Aardvark presenting from a garden shed accompanied by a sunflower and a bird, He would rundown what was coming up and tell viewers jokes, He would also read letters sent in by viewers and display the CBBC on Nick address if they wanted to send in letters or jokes. After CBBC on Nickelodeon ended on Friday 16th July 1999, Marvin has not appeared since although his cousin Otis has appeared numerous times than he has.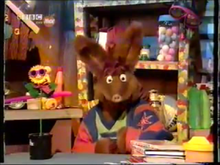 Ad blocker interference detected!
Wikia is a free-to-use site that makes money from advertising. We have a modified experience for viewers using ad blockers

Wikia is not accessible if you've made further modifications. Remove the custom ad blocker rule(s) and the page will load as expected.