Juniper Jungle was a short lived cartoon series created by the British comedian Bobby Ball and broadcast on the BBC in 1992.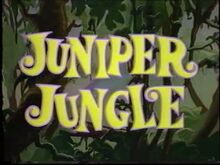 Juniper Jungle has been shown on BBC1 and BBC2 in the 1990's, CBBC on Choice premiered the series on Wednesday 15th December 1999 at 8.20am, 11.20am and 2.20pm and then took a break for Christmas 1999 before re-showing from Monday 10th January 2000 - Friday 21st January 2000 every day for 2 weeks at 7.15am, 10.15am, 1.15pm and 4.15pm.
Ad blocker interference detected!
Wikia is a free-to-use site that makes money from advertising. We have a modified experience for viewers using ad blockers

Wikia is not accessible if you've made further modifications. Remove the custom ad blocker rule(s) and the page will load as expected.