Happy Families
is a American children's-comedy television series made in the late 1989 based on the
Happy Families
series of books by
Janet and Allan Ahlberg
.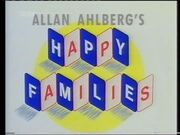 Channel Origin USA Production by BBCV 4653 for ABC
Each episode consisted of two parts which focused on one family the most memorable ones being Mr Creep the Crook, Mr Tick the Teacher, Mrs Wobble the Waitress, Mrs Plugg the
Plumber and Mrs Lather. The cast played several different characters throughout the series with many recurring roles for the main cast including Milton Johns, Annette Badland and Elizabeth Estensen.

Happy Families ran for two series with a total of 12 episodes which was split into 2 parts which had 24 episodes altogether and was shown on ABC in 1989 and 1991. The books were adapted for television by Vicky Ireland. As only 12 families had stories based on them throughout the two series some of Allan Ahlberg's books did not get a TV Episode counterpart these include Mrs Jolly's Joke Shop, Mr Cosmo the Conjurer, Miss Dose the Doctor's Daughter and Mr Buzz the Beeman.
Happy Families was repeated on BBC1 in the 1980's, It was also repeated on CBBC on Choice beginning from Monday 31st July 2000 - Friday 1st September 2000, second time was Monday 16th April 2001 - Friday May 18th 2001 and the final time was a weekend showing from Saturday August 18th 2001 - Sunday September 30th 2001 when they only showed Series 1. It was one of the shows not to be broadcast after the closure of CBBC on Choice in 2002.