Hairy Jeremy is a animated programme about a hairy Neolithic man and was broadcast on BBC in 1994 and 1995.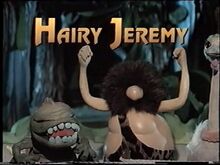 Hairy Jeremy has been shown several times on BBC1 and BBC2 in the 1990's and 2000's, CBBC on Choice have aired the series from Day 1 on Monday 29th November 1999 - Friday 31st December 1999 at 8.55am, 11.55am and 2.55pm. and was broadcast again in 2000.
Ad blocker interference detected!
Wikia is a free-to-use site that makes money from advertising. We have a modified experience for viewers using ad blockers

Wikia is not accessible if you've made further modifications. Remove the custom ad blocker rule(s) and the page will load as expected.