Ethelbert the Tiger was a cartoon about Ethelbert, a mischievous cub, and his Dilip, who through a magic waterfall to different parts of the world and was broadcast on the BBC from 2000 - 2001 with repeats til 2009.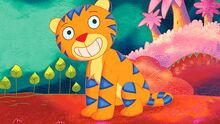 Ethelbert the Tiger was on several times on BBC1 and BBC2 from 2000 - 2009, CBBC on Choice have started airing Ethelbert the Tiger on weekday afternoons of summer 2001 at 2.20pm, then Saturday 5th January 2002 - Sunday 10th February 2002 at 10.35am and 1.15pm. CBeebies took the series in summer 2002 on Thursdays.
Ad blocker interference detected!
Wikia is a free-to-use site that makes money from advertising. We have a modified experience for viewers using ad blockers

Wikia is not accessible if you've made further modifications. Remove the custom ad blocker rule(s) and the page will load as expected.