Caterpillar Trail was a nature programme broadcast on BBC from 1985 - 1990 and was presented by Stuart Bradley and Nicola Davies.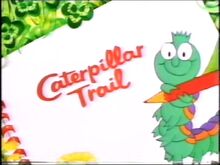 CBBC on Choice have screened Caterpillar Trail on Monday 20th March 2000 at 6.05pm until Friday 21th April 2000. It returned to CBBC on Choice after a while on Easter Monday - Friday 26th May 2001 as part of an provisional secondary programming block called Nature's on the Case which screened nature programming and Caterpillar Trail was part of it. It has also popped up on Choosy Bits a few times in 2001/02.
Ad blocker interference detected!
Wikia is a free-to-use site that makes money from advertising. We have a modified experience for viewers using ad blockers

Wikia is not accessible if you've made further modifications. Remove the custom ad blocker rule(s) and the page will load as expected.