Angelmouse Copycat Chick Angelmouse My Friend Angelmouse a children's television programme which was produced and broadcast by the BBC. It was aired on CBeebies (both the separate channel and CBeebies on BBC One and BBC Two). It has also been broadcast on ABC Kids. It started from 27 September 1999 and ended on 20 March 2000.
There are also Angelmouse books and plush toys. It was narrated by David Jason who also voiced Danger Mouse, Count Duckula, Toad in The Wind in the Willows, Hugo in Victor and Hugo, The BFG and Father Christmas in Father Christmas and the Missing Reindeer.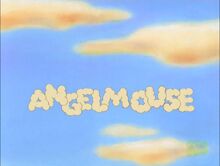 Characters
Edit
- A mouse who is an angel. He lives on earth with
his friend Quilly, and receives missions to do good deeds from "You-know-who" (God). He has wings and a "thingamajig" (halo), which slips, wobbles or even disappears when he misbehaves or neglects his mission.
Quilly - A bird, who gives Angelmouse advice and prompts him
to start or continue his missions. He is also the narrator of each episode.
Elliemum - A sensible, kind and cheerful elephant who highly regards Angelmouse as a 'real angel'.
Baby Ellie - Elliemum's baby elephant, who likes to play and join in fun.
Oswald - A duck, who loves to speed especially on roller-skates. He often says "No Brakes!" as he whizzes by.
Spencer - A dotty teddy bear, who frequently drives a car.
Little Petal - A cute rag doll, who runs a little shop.
Hutchkin - A rabbit, who stays in his home most of the time.
Episodes
Edit
#
Title
Air Date
1
"My Friend Angelmouse"
27 September 1999
Angelmouse

rushes into Quilly in hope of passing the test of helping someone to qualify as an angel. He finally helps Quilly himself and gains his Thingamig.

2
"Lost Thingamajig"
4 October 1999
Angelmouse

has lost his Thingamajig. As he searches for it he mistakes other hoops for it. When he saves Baby Ellie from a pond he earns it back.

3
"Important Message"
11 October 1999
4
"Windy Weather Day"
18 October 1999
On

a very windy day, Angelmouse goes to Cloud 9 where he rescues Little Petal along with other people's items that had been blown away.

5
"Trumpet"
25 October 1999
Angelmouse

receives a trumpet, but doesn't realise he's supposed to teach Baby Ellie how to play it. Unfortunately Oswald sits on it, but Baby Ellie picks up from bubble blowing.

6
"Baby Ellie's Presents"
1 November 1999
Angelmouse

tries to choose a present for Baby Ellie's birthday. The whole village gets presents that she doesn't like, but Angelmouse manages to give her what she really wanted.

7
"Angel Cake"
8 November 1999
Angelmouse

is requested to get a special cake for Elliemum, but he loses it to Hutchskin, so Angelmouse and Quilly make one with a little magic for Elliemum's tea time.

8
"Copycat Chick"
15 November 1999
Angelmouse

has to find a home for a chick that copies his every move. No one but Elliemum and Baby Ellie are suitable carers for her.

9
"Night Flight"
22 November 1999
10
"Cloud Nine"
29 November 1999
11
"Angelmouse's Day Off"
6 December 1999
Its

Angelmouse's day off, but he's bored and has nothing to do. He gets stuck trying to get some honey, but Quilly and all the village come to his rescue.

12
"Angelmouse's Reward"
13 December 1999
Angelmouse

looks around to help people to earn a nice reward, but Quilly thinks he's causing trouble. When they get home, they find a nice surprise for Angelmouse.

13
"Guardian Angelmouse"
20 December 1999
Angelmouse

has to babysit Baby Ellie, but would rather go flying in Oswald's plane. Angelmouse gets his chance when Baby Ellie warns him, Oswald's plane is out of control.

14
"A Visitor for Angelmouse"
27 December 1999
Angelmouse

is assigned to help a visitor to go home. Angelmouse and his friends have trouble trying to find his place, but Hutchskin has the answer to the problem.

15
"The Rainy Day"
3 January 2000
16
"The Missing Message"
10 January 2000
17
"Can't Sleep Won't Sleep"
17 January 2000
18
"Flyaway Feather"
24 January 2000
19
"Ice Cream Clouds"
31 January 2000
On

a hot day, Angelmouse is sent to get Baby Ellie some ice-cream, but there doesn't seem to be any. Oswald upon crashing his plane finds an ice-cream cloud.

20
"Rainbow Paint"
7 February 2000
Spencer

donates Angelmouse's old stuff for a jumble sale, but his rainbow paint is mixed up in the lot. Angelmouse hurries to get it back before it rains.

21
"Head In The Clouds"
14 February 2000
Angelmouse is sent to help Spencer, but he can't quite find him. He stumbles across Spencer, who was mountain climbing.
22
"Can't Stop Duck"
21 February 2000
Angelmouse

derelicts his duties to see Oswald drive his new car which he's supposed to stop. However he's going to have to do it without his 'Thingamajig'.

23
"The Wishing Star"
28 February 2000
Angelmouse is sent to help Baby Ellie, but not knowing what to do, consults the wishing star for advice.
24
"Bouncing Elliemum"
6 March 2000
Elliemum

has a problem with talent for a contest, so Angelmouse consults his friends for some ideas. Finally Angelmouse suggests bouncing on a cloud.

25
"Weather Angels"
13 March 2000
26
"The Missing Skates"
20 March 2000
Script: Mark Holloway
Animation Director: Mark Mason
Animation: Episodes 1-11, 13, 14, 16, 18, 20, 22, 24, 25:
Mark Mason. Episodes 12, 15, 17, 19, 21, 23, 26: Vanessa Luther-Smith, Paul Stone, Barry Hales
Assistant Animators: Sam Power, Jonathon Booth
Layouts: Dan Whitworth, Ian Jackson
Backgrounds: Sue Tong
Line Test: Sally Mason, Jenny Fogah
Digital Paint and Trace: C&M Digital Animation
Dubbing Mixer: Richard Lambert
Storyboard: Jez Hall, Mark Mason (Episodes 2, 3, 4, 8, 10, 13, 18, 22)
Series Director and Title Sequence Animation: Graham Ralph
Angelmouse has been shown several times on BBC1 and BBC2 in 1999-2005. CBBC on Choice have also broadcasted Angelmouse thrice beginning from Day 1 on Monday 29th November 1999 at 12.30pm, 2.55pm and 4.40pm. It returned on on Thursday 1st March 2001 - Friday 30th March 2001 at 6.55am, 9.55am, 12.55pm and 3.55pm. The final broadcast was twice from Sunday 6th January 2002 - Sunday 10th February 2002 at 1.25pm and 4.25pm, just before the Icky Extravaganza secondary programming block. It continued to be broadcast on BBC1, 2 and CBeebies from 2002-2005.